Why Is The Pacvac Superpro 700 The Preferred Backpack Vacuum For Commercial Cleaners?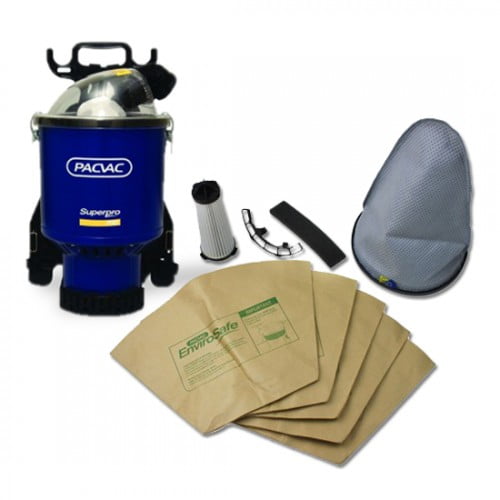 The vacuum cleaner is a high quality product from over 30 years of research, development and innovative design. Considering its highly efficient and durable characteristics the Pacvac Superpro 700 is considered to be the number one choice when you think of backpack vacuum cleaner. This machine is a combination of performance, comfort and aesthetics.
Statistics have proved a backpack vacuum is the most efficient way to clean your floors, carpets and upholstery. The Pacvac Superpro 700 is here to help you save your time and money. This way, you get to pay more attention to your other commitments and activities you enjoy the most.
What makes the Pacvac Superpro 700 an amazing vacuum cleaner?
A set of phenomenal features that will assist you in cleaning your commercial premises quickly and efficiently:
A HEPA rated Hypercone filter: It makes cleaning effortless and ensures you have a healthy cleaning experience. In addition, it is the only filter present in the market that sustains the suction power even as the dust bag is filling up.
Ergonomically designed frame: Top notch design to help you with comfort and maintain correct posture while cleaning. The Pacvac Superpro 700 has a 'body-moulded' ergonomic frame.
It includes a high quality designed adjustable harness
A cyclonic effect takes place because of the offset inlet and also ensures maximum suction power
A clear lid giving you a good view so you know when you have to empty the canister
Set of premium and durable flow-through motors ensuring you have a perfect cleaning experience
Five paper vacuum bags and two cloth bags as consumables to help you with easy maintenance
A super strong cord that will prevent any form of disconnections and keep the operator safe
Wide range of accessories dusting brush, upholstery and crevice tool
A fine investment where you will require only a few regular services
Where is the Pacvac Superpro 700 being used?
This state-of-the-art vacuum cleaner is being employed at numerous commercial establishments like:
Airports
Offices
Department stores
Resorts
Showrooms
Schools
Malls and
Theatres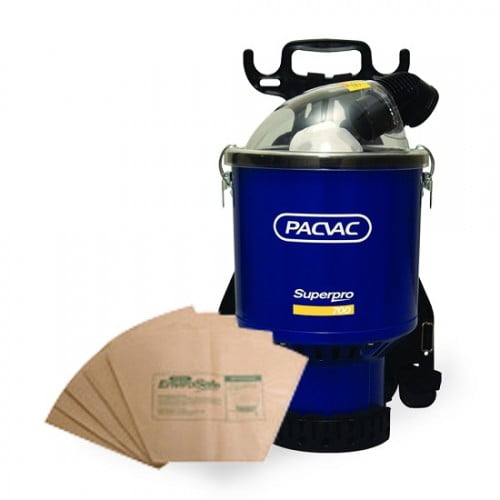 The Pacvac Superpro 700 is compliant with the highest health and safety regulations, including the electrical and filtration standards too. This back pack vacuum cleaner is manufactured in full compliance with Australian and International standards.
Additionally, the Chiropractors Association of Australia, Carpet Rug Institute, Health and Safety Matters Pty Ltd and many more occupational health and safety organisations have gladly accepted the Pacvac Superpro 700!
Multi Range can help you!
We have a professional and customer friendly team to assist you with the Pacvac Superpro 700. Get in touch with us if you have any queries regarding the product. We will be delighted to hear from you.