Pacvac Superpro 700 Vs Pullman PV14BE Backpack Vacuum Cleaner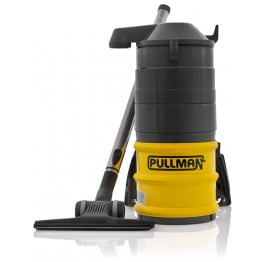 The Pacvac Superpro 700 backpack vacuum cleaner comes with a Hypercone HEPA filter. It is a vacuum cleaner that offers you a comprehensive 4-stage filtration process with a good 5-litre capacity. This product comes along with two cloth and five paper vacuum bags.
The Pullman PV14 is fitted with a bypass motor. It's a backpack vacuum cleaner that can be operated with or without a vacuum bag.
Both of the top-notch vacuum cleaners are a product from Australia. They are widely popular when it comes to cleaning of commercial premises.
However, there are differences that you will notice:
HEPA filter:
One of the key features of the Pacvac Superpro 700 is its Hypercone HEPA filter.
HEPA is known as high-efficiency particulate air. It is a mechanical air filter which forces the air through a fine mesh and it helps trap harmful particles like: pollen, dust mites, pet dander, and tobacco smoke.
However, the Pullman PV14BE carries no such filter.
Motors:
The Pacvac Superpro 700 operates with a powerful 1000W flow-through motor and helps create a cyclonic effect for a good cleaning experience. The Pullman PV14BE is fitted with an efficient 1100W Domol bypass motor.
Design:
Pullman PV14BE packs a punch with a strong and robust design. It comes along with an ergonomically designed harness as well.
The Pacvac Superpro 700 is produced keeping a lightweight and ergonomic design in mind to assist you with comfort and to maintain a correct posture.
Indicator:
A clear lid gives you a clear view and you will know when you have to empty, and clean up the canister of the Pacvac Superpro 700. However, this feature is not available with the Pullman PV14BE.
Warranty:
There is a 2-year Pacvac warranty on body and a 1-year warranty on the motor for the Pacvac Superpro 700. But its counterpart the Pullman PV14BE comes with only a 1-year warranty.
Prices:
Currently, the product from Pacvac is available at Multi Range for $313.50. However, the Pullman PV14BE is selling for a little over $400 from various online merchants.
Get in touch with the team of Multi Range!
You may have some more queries related to the Pacvac Superpro 700 and the Pullman PV14BE backpack vacuum cleaners.
Feel free to contact us today at 1300 472 47687 or 0416 398 555. Alternatively, you can fax us at (02) 9773 0678 or send us a query through our contact form.
If you are at Milperra, Sydney and have some questions drop by our store. Our professional and experienced team will be happy to assist you!