What are the Best Cheap Vacuum Cleaners?
Commercial cleaning companies, facilities managers and building managers are always trying to deliver the best service at the lowest price. Looking for the online deals for items such as cheap vacuum cleaners may be a good way to access the best price, but you do need to consider other factors outside of pricing first. Otherwise, you will be spending money on what you think is a good deal, when in fact all you receive is a substandard vacuum cleaner.
At Multi range we have spent more than a decade researching and testing some of the Cheap Vacuum Cleaners on the market, and we have come across different vacuum cleaners that might fit your need in a reasonable price. Read on to know how you can get the best vacuum cleaner at the least price.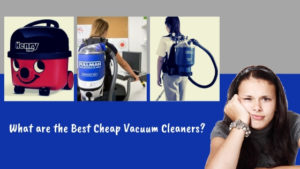 Things to know before buying the Cheap Vacuum Cleaners
Vacuum cleaners have come a long way and developed over the years, today's commercial vacuums perform better than ever before. There are many factors you should consider before choosing any cheap vacuum cleaners as your essential piece of cleaning equipment. If your cleaners start work before staff goes home, you probably want to look at a low noise option. If the space you clean have both carpet and kitchen floor surfaces, or clean surfaces that need to be cleaned thoroughly over a short period of time, you may want to choose a wet/dry or combination vacuum. If your staff is cleaning a large area then a backpack would be the best vacuum cleaner for your cleaning staff's health and ease of use, far better than dragging a vacuum across the floor.
Is the cheapest vacuum cleaner going to do a good job?
The same advice stands for any product or service. If you choose the very cheapest you can find, you are likely to get poor quality results and service.  The best way to approach purchasing the cheapest vacuum cleaner is to look at your budget. Once you have that budget in mind, see if you can shop around, price match or get a discount on that, if you can get $50, or $100 off then you are indeed getting the best vacuum cleaner you can for a reasonable price.
What are the best brands of vacuum cleaners?
If you're looking for the best cheap vacuum cleaners, keep your eye out for wholesale pricing and deals on leading brands. The good old Henry Hoover is still an extremely popular choice and is iconic because it performs well, delivering excellent vacuum power and is sturdy and well-made meaning you don't need to replace parts or equipment very often.  Likewise, brands such as Pullman and Pacvac sell high performing backpack vacuum cleaners and large volume canister vacuum cleaners which are ideal for large spaces. Here are a few cheap vacuum cleaners you can choose from.
Henry Vacuum Cleaner
Henry Hoover or Henry vacuum cleaners are an iconic piece of cleaning kit for residential and commercial spaces. Henry vacuum cleaners are available in a variety of colors and various options such as the Henry HVR200 Numatic which is the powerful and reliable red Henry Hoover and one that has reigned as the most popular for decades.
Henry vacuum cleaner is extremely powerful, sucking up all the dirt and dust it can find, and it has an easy to empty and replace vacuum cleaner bag. Its small size makes it easy to store and cleaners love using this numatic henry vacuum as it is light and very easy to pull along, carry and maneuver. Henry vacuum cleaner is not just a pretty face, it works incredibly awesome. The price of a Henry vacuum cleaner is quite reasonable when compared with its specifications. All these qualities make Henry the best vacuum cleaner available in Australia.
Pullman Vacuum Cleaner
You can get innovative, user-friendly features with extraordinary excellence by using Pullman vacuum cleaner for cleaning of your home or office space. Pullman vacuum cleaner is one of the most powerful, stylish and Cheap Vacuum Cleaners; it is extremely comfortable to wear and has exceptional cleaning powers. Its height-adjustable system suits all user heights and is designed to be worn comfortably for the long duration cleaning process.
You will get high powered and efficient cleaning experience with Pullman Vacuum cleaner. It satisfies all your commercial cleaning operation needs and offers a proficient way to carry out. If you are choosing Pullman, have faith that you're getting the best cheap vacuum cleaner that's strong enough to handle the wear and tear of continuous use.
Pacvac Vacuum Cleaner
Pacvac vacuum cleaners are durable, efficient and the result of over 30 years of continuous innovative design and development, making them the Australian cleaning industry's first choice in backpack vacuum cleaners. The performance of Pacvac vacuum cleaners is also matched by their comfort. Pacvac vacuum cleaners are fitted with a world standard ergonomically designed harness; HEPA rated Hypercone™ filtration and provides cleaners with effortless and healthy cleaning experience. Pacvac is specifically designed for Commercial Premises, Resorts, Department Stores, Showrooms, Offices, Schools, Airports, Theatres, Surgeries, and Households.  In spite of all the latest features, Pacvac are the cheap vacuum cleaners available in the Australian market.
Ultimately, when it comes to finding the best cheap vacuum cleaner, don't just look at price alone and approach the purchase by finding the best deal you can for a high-quality high-performance vacuum cleaner.
Where to find the Cheap and best vacuum cleaner
Ask the cleaners themselves! If you want to find out which vacuum cleaners work best, then ask those who have been in the cleaning industry for a long time and those who use the equipment. Seek out online cleaning supply companies who have been in the business for a while and know what works and what doesn't.  The longer they have been in business, the more likely they are able to have relationships with suppliers and be able to offer wholesale pricing.
Multi Range is a family owned independent business that has been running since 2006 in Australia. Browse our site and you'll find the best vacuum cleaner deals.