Sanitising Or Disinfecting Strategies For Workplaces
Offices and workplaces are prone to harbouring germs due to high foot traffic and heavy usage of bathrooms. There are also many surfaces and office and industrial equipment which can be contaminated on a daily basis. Some examples of equipment are chairs, floor, telephone, desktop, keyboard, stapler machine, printer, microwave door handle and other touchpoints which are handled by many different people daily.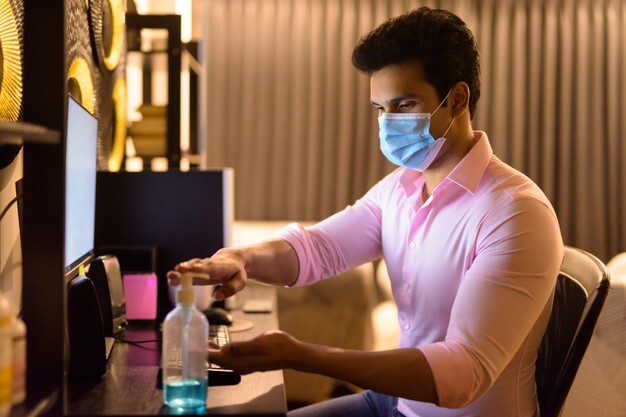 Frequent cleaning and wiping of surfaces with cleaning chemicals followed by disinfecting with hospital grade disinfectant and sanitiser spray are necessary to prevent illnesses and viruses from spreading. There should be planned strategies to practice cleanliness and encourage a healthy environment in all workplaces. Following a cleaning process will contribute to a safer and more hygienic environment for employees. The three most important practices that should be a part of every cleanliness strategy in an office include:
Cleaning And Disinfecting Surfaces And Equipment
Proper daily cleaning such as dusting, and mopping with strong cleaning chemicals removes germs and other particles that might collect and harbour germs. Using antibacterial wipes for wiping down equipment such as keyboards, telephone and desktop will remove germs, fingerprints and other germs and debris from work stations. Disinfecting multi-user workstations is a must to promote a healthy environment in an organisation.
Use Of Hand Sanitiser And Disposable Face Mask
With frequent cleaning and disinfecting, employees should also practice sanitization by using hand sanitisers and wearing disposable face masks to prevent the spread of germs. It's recommended that companies should provide a hand sanitiser station at all entry and exit points to encourage good hygiene practices and leave germs at the door. Encouraging good hygiene in the workplace is the responsibility of both employer and employee. Employees should regularly and thoroughly clean their hands with soap and water and when needed sanitise them with alcohol-based hand sanitiser.
Encouraging Good Hygiene At Workplace
The fact is, good sanitising and disinfecting routines can greatly reduce germs and viruses from surfaces and helps to keep everyone healthy and active at work. Employees who practice hygiene and cleanliness should be appreciated to keep them encouraged and others inspired for a collective and positive approach towards a germs-free workplace.