Pacvac Backpack: Lets Compare The Best Backpack Cleaner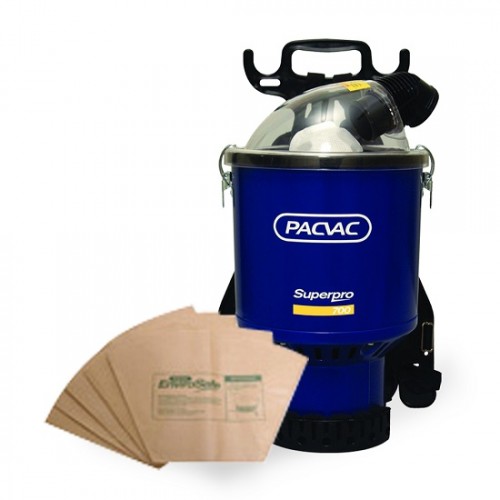 Let's compare these models: Pacvac Superpro 700, Pullman BV12BE, Hako Shadow Vac, Nilfisk GDS, Ghibli T1, Cleantech Piggy Vac, and Origin 100BV. We'll compare them feature by feature.
Capacity
First, let's consider the capacity of all vacuum cleaners. The more capacity they have, the more dust they can collect in one go. Hako Shadow Vac has a capacity of 4 litres, while all other models on our list have a capacity of 5 litres.
Weight
The most lightweight model is Nilfisk GDS at 4.2 kg, while the other models range from 4.4 kg (Cleantech Piggy vac) to 5 kg (Pacvac Superpro 700).
Airflow
Measuring airflow in litres/second, we have Ghibli T1 as the winner with 51 l/s. The lowest airflow offering is from Hako Shadow Vac (32 l/s) while Pacvac Superpro 700 stands at 38 l/s.
Power
Let's compare the power consumed by all these models. Pacvac Superpro 700 consumes 1000W, and the other models range from 850W (Origin 100BV) to 1450 (Ghibli T1). Power consumption is an important factor in making the buying decision because it determines the long-term cost of the device.
Noise level
The Origin 100BV is the quietest model with 58 dB. Pacvac Superpro 700 stands at 66 DB, while Hako Shadow Vac is the noisiest with 78 dB. Noise level plays an important role in families with children or pets.
Cord length
With a long cable, you can carry the backpack vacuum cleaners to places that are away from the wall sockets. Pacvac Superpro 700 has a 15m long cord while Hako Shadow Vac and Ghibli T1 have cords of 18m each. All others have a 15m long cable.
Hose length
With a longer hose, you can reach tight corners. While most models in our comparison list have a 1.2m hose length, Ghibli T1 has a 1.5m long hose.
Warranty
With a long term warranty, you can rest assured that all repairs and fixes will be performed by the company for free, so you don't have to spend anything. While all models on our list come with a warranty of one year, Pacvac Superpro 700 comes with a warranty of 2 years.
Accessories
Pacvac Superpro 700 comes with 5 paper bags, 1 cloth bag, Wessel floor tool, crevice tool, dusting brush, and upholstery tool. Pullman BV12BE comes with a combination floor tool. Hako Shadow Vac comes with a floor tool with wheels and an electric brush kit. Nilfisk GDS comes with a combination floor tool. Ghibli T1 comes with a German Wessel Werk turbo brush, Wessel Werk low profile floor tool, a crevice tool, a dusting brush, and an upholstery brush. Cleantech Piggy Vac comes with an easy glide floor tool, a crevice tool, a dusting brush, and an upholstery tool. Origin 100BV comes with a combination floor tool.
To make the right decision, you need to assign a priority to each of these features and then see which one is the best for you. So which backpack vacuum cleaner will it be for you?
The Final Verdict:
Backpack Vacuum cleaners are becoming popular due to the level of comfort and efficient cleaning they provide. Ergonomically designed to give better posture during cleaning with a secure harness system, it ensures that attaining 99.9% vacuuming goals is possible while ensuring safety and protection.
The Best backpack vacuum cleaners Australia offers consist of high suction power conveniently reaching all hard-to-reach areas and removes dander and dust particles completely.
Considering the workload and size of cleaning at a commercial cleaner level, commercial backpack vacuum cleaners are the ideal choice. They are designed with different features including light weight for comfort of cleaning staff, HEPA filtration system, air ventilation system, an extra long cord attachment, and noiseless sound of the motor, ensuring professional results..
Visit multi range to access the best commercial backpack vacuum cleaner Australia wide. An industrial backpack vacuum cleaner that will give you 100% satisfaction when it comes to yours and your clients cleaning requirements designed with features and benefits that far outweigh standard vacuum cleaners.